With episode eight, we're nearing the end of the Bosch series, and Harry's instincts are starting to pay off, big time. Pity his boss, his colleagues and his lover aren't concentrating as hard as he is on getting justice done . . .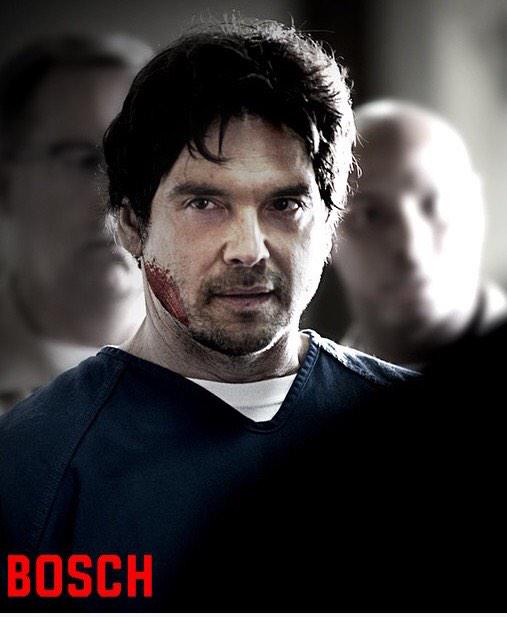 The wonderfully creepy Jason Gedrick continues to unravel psychologically – and one can't help but get the feeling that this psycho is winding up for his endgame. If that wasn't enough, Brasher is handed a clean slate by Pounds, on the understanding that she'll file a sexual harassment suit against Harry.
Will she lie about Bosch to save her own skin? She sure lied about the Stokes incident in the parking lot.
Deputy Chief Irving's political ambitions get some play here, and we see just what he's prepared to do in order to move up the ladder. But this is a game that Irving is only beginning to understand.
A call from the forensics lab leads to a startling confession by a lab tech. He admits inadvertently leaking evidence in the bones case to Waits. This was information Waits exploited in order to manufacture the opportunity to escape. However, this revelation is tempered with good police work as a new lead emerges which brings the focus of the investigation right back to Trent, the original suspect in the murder.
But Harry isn't convinced.
Instead, he throws his endeavours into a search through the files from the orphanage where he grew up. He suspects Waits had a similar history, and Harry is hoping a trawl of the archives will lead them to Waits' true identity.
While one case boils up, the other flows over into answers as Harry drives through the night to meet an old neighbour with a link to a photograph of the bones victim. This is the final push which blows the case wide open – only, the identity of the killer is the last person Harry expected.
On-the-run killer Waits leaves a personal message for Harry in a dumpster. And by the time the credits roll, you know that if Harry and Waits meet, one of them is going down – permanently.
Who is your favourite character in the Amazon TV Bosch series – and why? Leave us a comment, below!
Steve Cavanagh was born and raised in Belfast before leaving for Dublin at the age of eighteen to study law. He currently practises civil rights law, and in 2010 he represented a factory worker who suffered racial abuse in the workplace, and won the largest award of damages for race discrimination in Northern Ireland's legal history. His first novel, The Defence, is published by Orion in March 2015. Find out more on Steve's website.
Michael Connelly's latest Harry Bosch book is The Burning Room, available from Orion.