It's nearly the end of Bosch Season One on Amazon TV, and feelings are running high – both here in The Murder Room as well as onscreen. Tension mounts as the two cases start to break . . .
Thanks again to Steve Cavanagh for providing the lowdown on episode eight.
Since the last time I put fingers to keyboard, we've had the announcement from Amazon that Bosch is a hit, and will be back next year for a second season, drawing on three more of Michael Connelly's novels: The Last Coyote, Trunk Music and The Drop.
But for now, we still have two episodes of Bosch Season One to cover.
In this penultimate episode, the two big cases seem to be heading towards their respective conclusions: Johnny Stokes is identified as the primary suspect in the Delacroix killing, while the search for Raynard Waits is still under way in the aftermath of another murder.
There's time for a nice character-building scene early on, as Bosch and Lieutenant Billets share a drink and discuss the inadvisability of workplace relationships. It has to be said that Billets' dalliance with Kiz Rider (a future partner of Harry in the books) doesn't seem to be quite as apocalyptically ill-advised as Bosch's fling with Brasher.
Waits calls to taunt Bosch again before kidnapping a young mother. Meanwhile, most of the principal characters from the police side get together for a New Year's Eve party, which is interrupted when everyone's phone starts ringing with news of the kidnapping. Because the missing woman is an attractive young woman, and therefore far more media-friendly than the previous victims, the manhunt kicks into high gear as the LAPD race to find Waits' hideout.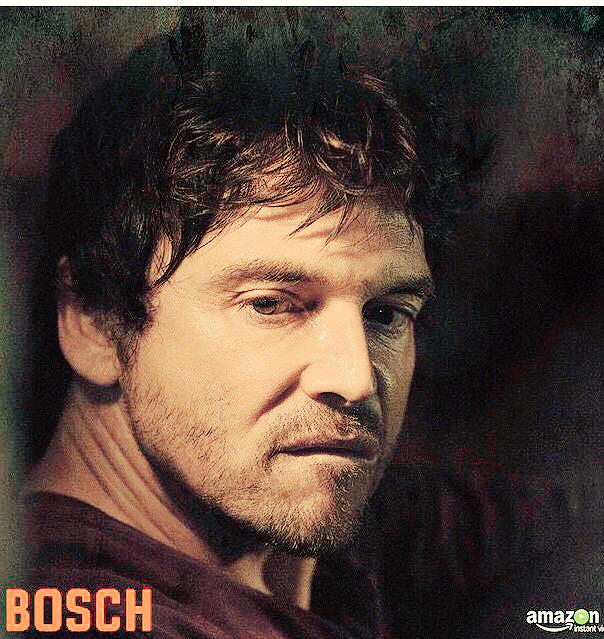 Waits must have negotiated a good deal on burner cell phones. Taking a break from winding Harry up, he contacts the journalist who broke the story that caused an earlier suspect to commit suicide back in episode two. Wanting to atone, the hack contacts Bosch, who gives him short shrift but takes him up on the offer of help.
Putting the pieces together, the Echo Park area emerges as the epicentre of Waits' activity. That, together with Bosch's knowledge of his boys' home past, is enough for him to track down the address of Waits' foster mother.
Bosch and Edgar descend on the house, finding the mother dead in a condition so gruesome it wouldn't look out of place on The Walking Dead, before getting separated as Bosch discovers Waits' catacombs. There's a tense stand-off before Bosch guns Waits down, only afterwards discovering that his gun had no bullets – the killer ended up opting for suicide by cop.
With the Raynard Waits case in the books and one episode to go, we know we're headed towards the finish line. But there's still one suspect on the loose, and a murder to solve . . .
Will you be reading one or more of Michael Connelly's Harry Bosch books – The Last Coyote, Trunk Music and The Drop – in preparation for Season Two? Let us know what you think of them!
Mason Cross was born in Glasgow in 1979. He studied English at the University of Stirling and currently works in the voluntary sector. His short story, 'A Living', was shortlisted for the Quick Reads Get Britain Reading Award. The Killing Season is his first novel. He lives in Glasgow with his wife and three children. To find out more, visit Mason Cross' website or follow him on Twitter and Facebook.
Michael Connelly's latest Harry Bosch book is The Burning Room, available from Orion.