This episode, Bosch needs to stand strong while walking through some difficult territory, both professionally and personally. Mason Cross follows close behind . . .
The previous episode closed with the appropriately named Brasher getting shot in somewhat muddled circumstances. Episode seven, 'Lost Boys', picks up in the immediate aftermath, with Bosch bringing suspect Johnny Stokes downtown for questioning.
Brasher's story is that Stokes went for her gun. The only problem is, Bosch knows that's a fabrication, since he saw the suspect's hands on the wall at the time. While Brasher recuperates from the results of her carelessness with firearms, Bosch questions Stokes and finds out he knew Arthur Delacroix, the bones-in-the-hills victim.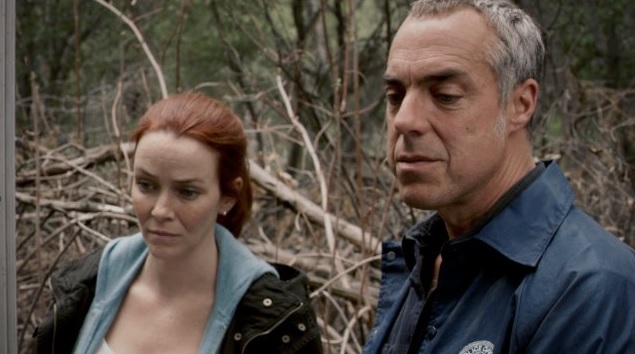 Meanwhile, our friendly neighbourhood serial killer Raynard Waits is struggling with living with his mother, and considering his options. Those range from putting her in a care home to dealing with her a little more permanently. It's amusing that the only time he seems happy in the episode is when he's conversing on the phone with the homicide detective on his trail.
The Brasher situation comes to a head when Bosch drops by her place, advising her to own up to her mistake. Needless to say, his suggestion doesn't go down too well. This subplot is great for what it reveals about Harry's character. While virtually all around him would be content to shrug their shoulders and let Brasher's account of events go unchallenged (along with the consequence of sending a man down for a crime he didn't commit), Bosch does the right thing rather than taking the path of least resistance.
Both in the world of the show, and as a fictional protagonist, this is what makes Harry Bosch stand out from his contemporaries. On the surface he might seem like the standard rogue cop who plays by his own rules but gets results. On closer examination, he's actually a straight edge with a surprisingly rigid moral code. But he still gets results.
Deputy Chief Irving, who, regardless of his personal reservations, is too astute to ignore the detective's talents, puts Bosch back on the Waits case – he needs those results. The decision quickly pays off, with Bosch uncovering a connection that he and Waits share: they may both have been inmates at a home for boys. A visit to the home stirs unwelcome memories for Bosch, reminding us why he is so determined to catch the killer in his other case.
One more interesting thing to note is that this episode unfolds over Christmas. It's always a little disconcerting to see stories set in Los Angeles during the festive season, because the climate dictates that many of the normal visual cues of snowmen and roaring log fires will be absent. It fits with Harry's experience – all alone without his ex-wife and daughter, Christmas is just another day on the job for him.
Do you think Bosch is blurring too many boundaries in this episode (or in the whole show), crossing too freely from the professional to the personal? Leave us a comment, below! We'd love to hear from you . . .
Mason Cross was born in Glasgow in 1979. He studied English at the University of Stirling and currently works in the voluntary sector. His short story, 'A Living', was shortlisted for the Quick Reads Get Britain Reading Award. The Killing Season is his first novel. He lives in Glasgow with his wife and three children. To find out more, visit Mason Cross' website or follow him on Twitter and Facebook.
Michael Connelly's latest Harry Bosch book is The Burning Room, available from Orion.