'He who tires of London . . .' We all know the Dr Johnson quote; well, those of us who live between Leytonstone and Wimbledon, or Canning Town and Wembley. London is very much in the blood of Charlie Boxer's creator, too, who grew up in the capital.
From 1981 to 1991, I had a flat in Clapham. But London was a city to which I'd had a connection since the late 1960s, when my father was serving as an RAF officer with MoD. We lived in a flat with Kensington Park Road on one side and Portobello Road on the other. Unimaginable now.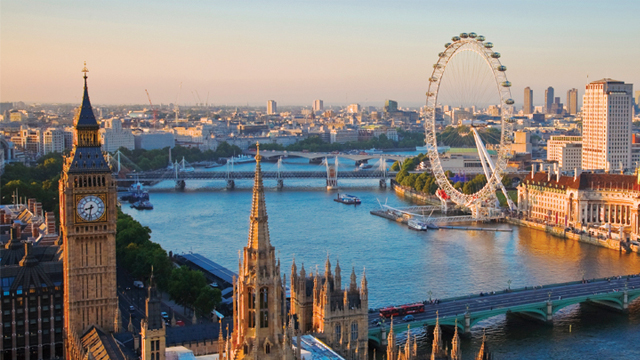 I got my first job working in Moore's supermarket on the Bayswater Road when I was just thirteen. I rescued a cleaver from the flailing arm of the butcher's boy, who'd fallen to the ground while having an epileptic fit. They were so impressed with me that they put me on the drinks counter where I served little old ladies their quarter-bottles of gin every day.
On my days off, I'd go to High Street Ken Market, where hippy gear was much in evidence and everybody smoked dope in Afghan coats and sold musky handbags and Indian cheesecloth.
London was filthy then, with litter scudding along the pavements a constant feature. But the pubs were real; none of your stripped pine floors and twenty kinds of lager. It was all Victorian oak panelling, wavy glass dividers, lino on the floor in the public bar and painfully sprung velour seating and patterned carpet in the lounge. Bass Charrington and Watneys were the beers to drink, and they were horrible, but these were the days before Real Ale.
It's difficult to believe now, but in the 1970s London was still recovering from the wreckage of the Second World War. There were still ships coming up the Thames to dock, and the dockers were constantly on strike and holding the country to ransom. The Balance of Payments was the media's watchword.
I remember going to Simpson's on the Strand and drinking Black Velvet with my father's friend, who stood us a lunch of roast beef and then took us to see Chelsea at Stamford Bridge, which only had one stand while the rest of the stadium was overrun by skinheads.
By the 1980s, London hadn't changed that much, but it was in the air. Maggie Thatcher was in power, and she wasn't having any of the industrial action that had brought the country to a three-day week in the Heath years.
London's future was established in those years leading up to the Big Bang in October 1986. Thatcher took on the miners, while Rupert Murdoch had it out with the print unions. Once the workers had been crushed, it was time to reward her friends in the City. The deregulation of the banks and stock exchange was to have a huge impact on London as a global player, making it one of the most powerful financial centres and sowing the seeds of the financial crash of 2008.
All the way through this part of the city's recent history I was either living in London or there visiting. The changes that have taken place since I sold my flat in 1991 have been staggering. London is no longer an English city, as it had been when I was living there. If you wanted to hear Portuguese or Arabic, you had to go to the Golborne Road or Edgware Road. Now you hear those languages, and many others, everywhere.
And this is why I like to write about London. It's always changing. It never stops. The London you saw yesterday is not the one you'll see tomorrow. The only thing that seems to stay the same is the mentality. Nobody goes to London to relax. You go there to make your mark, to build a life, to have a time.
Do you live in London? What do you love – or hate – about it? Leave us a comment, below.
Robert Wilson has lived and worked around the world, including spells in shipbroking, tour-guiding and exporting bathrooms to Nigeria. Eventually he settled in Portugal and turned to writing novels. Since then, he's written many acclaimed crime novels including the CWA Gold Dagger award-winning A Small Death in Lisbon and the Falcón series, recently adapted for television. The latest Charlie Boxer novel, You Will Never Find Me, is out now and  the series continues with Stealing People, which will be published by Orion in June. Find out more at Robert Wilson's website or follow him on Twitter.